KEEP>GOING Flex-Fabric Bandages
KEEP>GOING Flex-Fabric Bandages
Add Fun with Stylish and Unique Flex Fabric Bandages

36 and 60 Count Available 

Premium Adhesive that Sticks All Day

Flex-Fabric for Comfort that Moves with You

4-Sided Seal Helps Prevent Infection

Latex Free 


Standard Shipping $3.99 - Free Shipping on Orders over $39
Flex-Fabric Bandage Features
Testimonials
Matching Bandages
Genius! Also love that they are fabric, not plastic
Why Our Bandages Are The Best
● Unique patterns designed by us. You won't find them anywhere else.
● Flex-Fabric: Soft and breathable bandages that move with you.
● 4-Sided Seal: Keep out dirt and germs to prevent infection.
● Absorbent Pad: Cushions and protects wounds.
● Premium Adhesive: Holds all day.
● Cute designs make kids forget they boo boos fast
● Latex Free
Practical and Useful
If you're a mom to active children, you know the importance of having a medicine cabinet fully stocked with bandages.

Whether it's a scraped knee, a cut finger, or a minor burn, bandages are a must-have to keep out air, debris, and contaminants.

When you have KEEP>GOING bandages for cuts in stock, you're ready for any little injuries that always seem to happen at the worst times.

Choose from a bundle of 36 or 60 bandages and throw some in your car or purse so you're ready for anything, anywhere.

Keep the tears at bay and infections away with these practical and useful bandages!
Comfortable and Fun
If your child has sensitive skin, there's no need to worry with KEEP>GOING fabric bandages!

The flex-fabric is not only comfortable but also latex-free, saving your little one's skin from irritation.

With a super absorbent pad, these bandages fully protect the wound's surface area, ensuring your child stays comfortable.

Who knew bandages could be so fun?
Your child will love helping you choose which bandage colors and patterns to buy. There are 14 stylish patterns that allow your little one to display their personality.

Your child will be excited to show off their boo-boo with these kids' bandages!
Customer Reviews
Write a Review
Ask a Question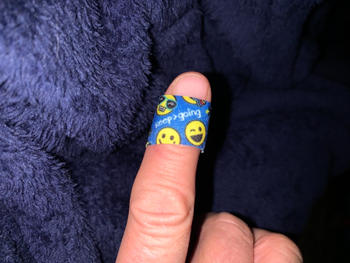 03/20/2021
Coloring your booboo
I'm somehow during the course of the day getting cut or deep scratches. As a cook they need to be covered ... these have been so great, I wish I'd found them sooner. The colors/designs/patterns are fun and I feel like I've my booboos aren't so bad or boring. Fun, extremely efficient and great value. The fabric allows it to breathe and flex with movement keeping booboos clean. I'll stay with these bandages rather than Johnson/Johnson brand. Great all around!
Anonymous

United States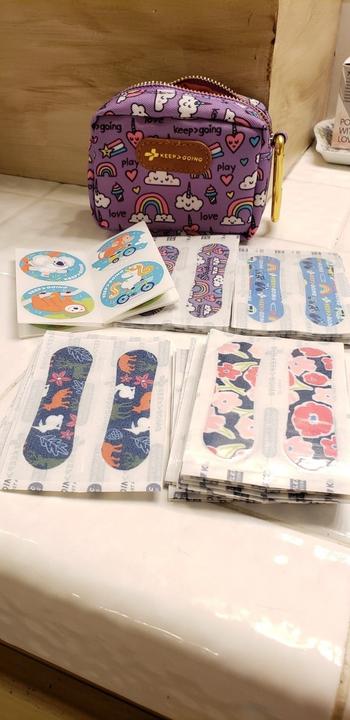 01/25/2021
These are great
Love these bandages I love the little bag that we purchased very nice quality and you get cute stickers that toddlers and young kids will love prices are very reasonable and shipping was fast I definitely will purchase more in the future :)
Jaime B.

United States
10/14/2021
Terrific bandaids!!
Second time purchasing these terrific bandaids! Not only are they so pretty, they are also the best bandaids! My granddaughter asked for them for her birthday! Makes a great little gift!
09/15/2021
Great item
Love this product!
Andrea B.

United States
08/20/2021
Excellent product
Very durable during all our activities. Our favorite bandages.
Anne B.

United States