KEEP>GOING First Aid MiniKit
KEEP>GOING First Aid MiniKit
The cutest First Aid Kit bag ever made just for Kids!

Makes a great gift idea for that special child in your life

Carabiner that easily attaches to school and sports bags

30 count latex free, flex-fabric bandages of matching bag and Signature patterns

Includes 20 super-cute custom KEEP>GOING stickers

Size: 4.5"x 3.75"x 1.75"

Standard Shipping $3.99 - Free Shipping on Orders over $39
MiniKit Features
A message from the Mom behind the Kits:
We started KEEP>GOING with just the medium size First Aid GoKit. But our own kids begged us to design one for them: to help themselves and help their friends. They choose the designs and now there isn't one day they leave for school without it.
There When You Need It
Clip the MiniKit to your child's backpack with the included carabiner. Send your little one on their way to school, sports practice, or the playground with confidence.

As a mom, you can breathe easy knowing your child has a bag equipped with premium bandages to help quickly address minor scrapes or cuts.

As added bonus our kids love helping their friends out with a bandage and a hug when they get hurt.
Durable and Lightweight
Adventures can get messy. Don't worry. Our kits are water and stain-resistant. The MiniKit is made with kid-tested, high quality 600d nylon fabric that can keep up with your little explorer.

Weighing a little less than 3oz with all contents, it's light enough to attach to any backpack or sports bag without a problem using the included carabiner.
Simple and Stylish
Whether you choose the KEEP>GOING Signature, Emoji Boy, or Rainbow Smile Girl pattern, your Kids won't be embarrassed to pull out their MiniKit to save the day, no matter where they are.

They might even want to show it off as their latest accessory.

The kit includes 30 premium bandages with patterns that match the bag, making your child's scraped knee suddenly stylish.

Your little one will love carrying around their own little trinkets in this First Aid Kit bag as they explore the world
Contents of the MiniKit
Customer Reviews
Write a Review
Ask a Question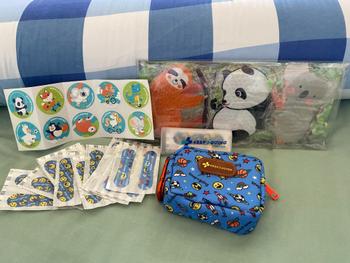 04/12/2021
Perfect for kids
Got mine today! Fast shipping. Didn't even take a week to deliver. Perfect for little kids. Thanks.
Karen

United States
09/15/2021
Love this little kit!
Absolutely love this little kit.
Andrea B.

United States
07/28/2021
Adorable!!
I carry mine with me all the time I use the bandages on me and anyone who needs one I'm 59 and I love it and I share it. Great price fast service I will be buying more!
Ronda F.

United States
05/24/2021
Perfect size!
I am so happy with this purcase. I am able to attach it the back stroller straps with the karabeener easily. The quality is amazing and a great idea with use of stickers for kids to "keep going!"
Holly J.

United States
05/18/2021
Love this little thing
comes with so many band aides and room for anything else you may need!
Jillian H.

United States